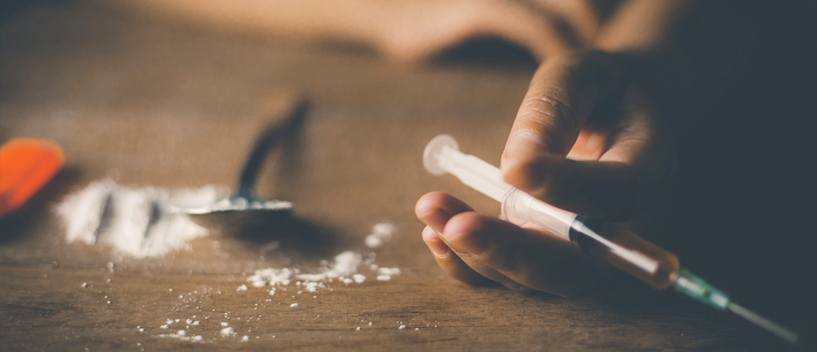 Drug Addiction is a kind of disease that begins slowly. The initial decision to take drugs is typically voluntary. The main reasons for their intake are to feel good, to perform well, to kill curiosity and to feel better. Drugs harm the brain's rewarding system by producing excessive dopamine, the chemical responsible for pleasurable feelings. However, with continued use, a person's ability to exert self-control can become seriously impaired and this impairment in self-control results in addiction. The treatment for drug abuse usually includes group therapy, different types of counseling, and drug education.
---
OPIOID Addictions (Afeem, Bhukki, Heroin, Smack)
Opioid addiction is a chronic disease that causes major health, social, and economic problems. Opioids are a class of drugs that act in the nervous system to produce feelings of pleasure and pain relief. Some opioids are legally prescribed by healthcare providers to manage severe and chronic pain but some other opioids, such as heroin, are illegal drugs of abuse.
Taking opioids over a long period of time produces dependence, such that when people stop taking the drug, they have physical and psychological symptoms of withdrawal such as muscle cramping, diarrhea, and anxiety. Opioid addiction is characterized by a powerful, compulsive urge to use opioid drugs, even when they are no longer required medically.
---
Tobacco Addictions(Charas)
Tobacco is a hashish form of cannabis, derived from the cannibis plant, the same plant which is used to make marijuana, The effects of tobacco can be powerful, and dangerous. The active ingredient in it, THC, is in higher concentration than in marijuana or regular hash.
The powerful effects of Tobacco include:
Psychedelic effects (hallucinations or altering of consciousness)
Tobacco users will have blood-shot eyes, heavy eye-lids and sometimes slurred speech.
Tobacco gives its users a dream-like experience when feelings of warmth and relaxation are felt.
Tobacco use often causes intense hunger.
---
Cannabis (Bhang)
Weed, also known as marijuana, is a drug derived from the leaves, flowers, stems, and seeds of either the Cannabis sativa plant. The health and social consequences of cannabis are limited to non-medical use of the cannabis plant which are the dried leaves and flowers (buds) of the cannabis plant that are smoked in a joint or a bong. Cannabis affects every individual differently. Even the same person may have a different experience on separate occasions or over the course of their life.
Smoking cannabis may increase the likelihood of experiencing:
Sore throat
Asthma
Bronchitis
If smoked with tobacco, cancer.
Withdrawal
Giving up cannabis after regular, heavy use over a long time is challenging, because the body has to get used to functioning without it. Withdrawal symptoms may last for only a week, but sleep may be affected for longer. Symptoms include:
Anxiety
Irritability
Loss of appetite and upset stomach
Sweating, chills and tremors
Restless sleep and nightmares
---
Benzodiazepine (sleeping pills)
Benzodiazepines are prescription drugs that slow down activity in the central nervous system to produce sensations of relaxation, sedation, and relief from anxiety. Benzodiazepines cause a dopamine release. Dopamine is a chemical that contributes to how we feel happiness.Over time, these drugs change the way the brain releases dopamine. This affects the way the person feels happiness from all activities. People who are addicted to benzodiazepines are sometimes unable to feel happiness unless they take high doses of the drugs. When used as prescribed by a doctor, the drugs are safe and effective. However, using benzodiazepines for other purposes can cause addiction and other serious health problems. A person with a severe benzodiazepine use disorder requires professional treatment and support to quit using the drugs. We at Naya Savera provide the right balance of treatment, support, effort and recovery from benzodiazepine addiction to help you lead a healthy life.
Anxiety
Irritability
Loss of appetite and upset stomach
Sweating, chills and tremors
Restless sleep and nightmares